"Gobbo" NPCs for RPG Maker
A downloadable asset pack
If you lacked portraits of monstrous creatures for your game, if you wanted to add a goblin merchant or a terrible vampire as NPC but could not find anything suitable, then this pack for you. Initially conceived as an asset for generator portraits of goblins, it was significantly expanded and became more universal. With sufficient skill (or luck), you can create portraits of creatures looking like orcs, vampires, lepreicons, satires, evil marsh spirits and other disgusting creatures.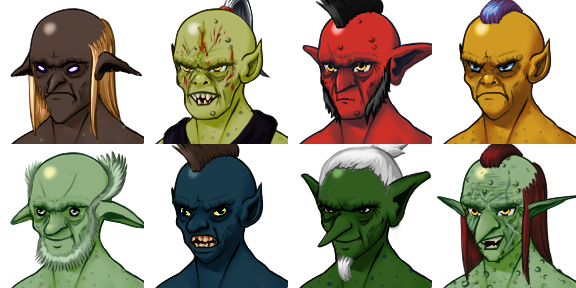 Example of creatures
A good idea will be experimenting with the imposition of several elements of the same type or location to get the most interesting result.
Features:

9 heads

20 eyes

20+ nose

30 people

19 hairstyle

7 beards

8 ears

7 brows

20+ f

acial marks
Free for commercial and non-commercial use

The archive has three folders. One - with source files in PSD format. They can be opened in any graphic editor supporting this format, for example, Krita and inhabit the greatest freedom to edit them. Another folder contains the same content but in the form of separate files in PNG format. I do not know why, but suddenly someone needs. Most convenient for most users will use files for Extended Generator by Schlangan from the third folder. It is enough to import the database file and the character parts in this excellent program and you can immediately start creating portraits.

It is important to note that this asset is designed to generate portraits of NPC, which means that it does not have important components to create a player's character. In particular, despite the fact that I have prepared miniatures of the body (for RPG Maker MV), the hair was not animated. Because of this, the use of these miniatures is very limited.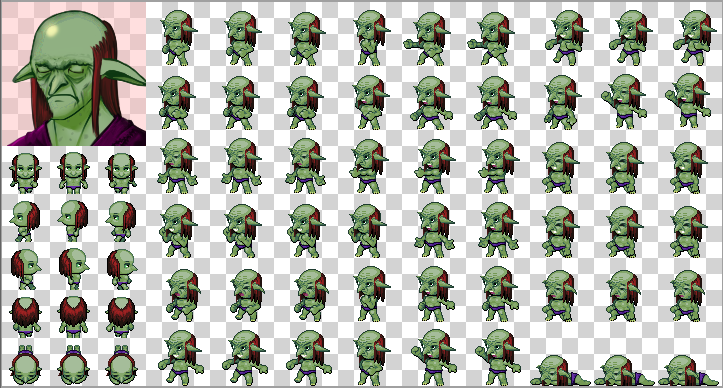 Here we can see the lack of cloth and hair animation
Update
I added several parts of the generator for "GobboFemale" portraits due to the fact that the users interested in female's portraits appeared. These parts include female body, heads, ears, mouths, noses and hairstyle. Eyes and brows you should take from the male "Gobbo" char as and the other parts that can fit to Female NPC portrait.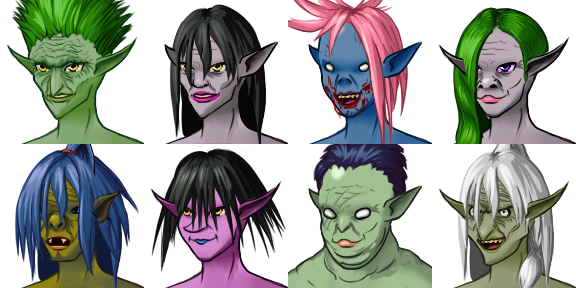 Download
Click download now to get access to the following files:
Comments
Log in with itch.io to leave a comment.
These are great, thanks! How did you make the skin different colors? Using a mask in Photoshop?
No, I used the Extended Generator by Schlangan. It allows you to repaint all the elements exactly as in RPG Maker. In addition, there you can easily create and configure your gradients for repainting.